Melissani Cave Lake: Kefalonian beauty in its most charming version!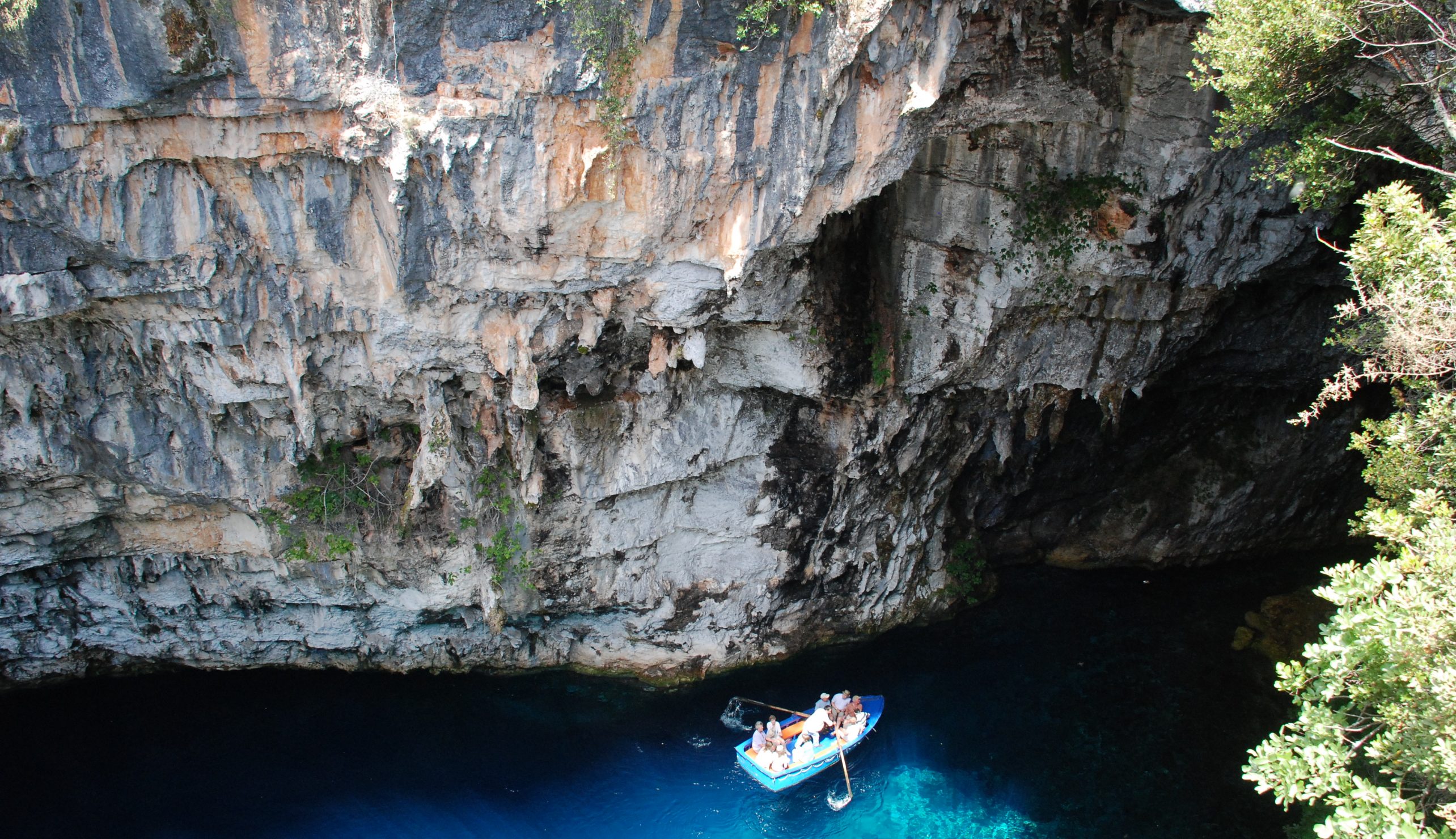 Today we are going to travel together to one of the most beautiful places in Kefalonia: to Melissani Cave, situated near Karavomilos- a cute little village 2 kilometers northwest of Sami and about 15 kilometers away from our Hotel.
Named after the Nymph Melissani, who, legend has it, retreated to the cave's waters after Pan, the God of the wild, the shepherds and flocks, rejected her. The Cave Lake was discovered by the famous speleologist, Giannis Petrohilos, in 1951, but was not open to the public until 12 years later, in 1963.
At 160 meters long and at 39 meters maximum depth, Melissani Cave Lake lies beneath the surface and is considered one of the greatest natural attractions of Kefalonia. The lake is devised in two parts, separated by the small lake island, which, according to archaeological findings, was a place of worship for Pan in ancient times. These two parts look like two grand ballrooms. The first area's roof is caved in, revealing a magnificent view, since the sunlight falls into the cave and refracts in the lake's turquoise waters, creating a plethora of unique colors; this is an experience of a lifetime. The second room's roof is an impressive dome from which thousand of years old stalactites hang, creating a natural sculpture on the dome's walls of incomparable beauty.
To experience the magic of Melissani Cave Lake you will need to take the guided tour using the small paddleboats that you will see as you enter the cave. Although the duration of the tour is relatively short, it is really worthwhile, because of the cave's exceptional natural beauty. Just paddle within this unique Kefalonian experience!
And a small piece of advice: If you do want to visit Melissani Cave Lake, know that in the summer season it is open between 8 am and 8 pm, during which time the tours take place as well. Finally, let me add one more thing: try to leave our hotel early enough, so that you arrive at Melissani Cave Lake around noon – the position of the sun at that time of the day is optimal for the most colorful interaction of sunlight and water. It will definitely rank as one of the most enchanting experiences of your whole life!
I can't wait to hear your impressions!
Siora Stella